GRIMM WOLVES MC
BOOKS 1 – 4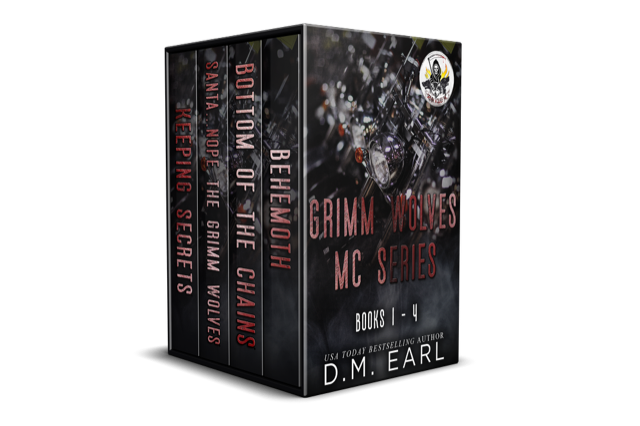 Take a ride with D.M. Earl and her Grimm Wolves MC. Start with this box set which includes Books One through Four.
Members-Prospects-Their stories show that family is not always the one you're born in.
'Live and let live—ride 'til ya die—brothers not of blood but of the club.'
Meet the Grimm Wolves MC and see why you shouldn't always judge a book by its cover.
¸.•´¸.•*´¨)✯ ¸.•*¨)¸.•´¸.•*´¨)✯ ¸.•*¨)¸.•´¸.•*´¨)✯ ¸.•*¨)
"Behemoth"
How does a man live two lives? One with honor as a firefighter and the other questionable as a Nomad in a Motorcycle Club. Add into the already confusing mix an unbelievable skill set that allows him the uncanny ability to absorb other's thoughts and emotions. Francis M Stein aka Stitch is surviving the best he can with the hand he has been dealt. He has found an extended family in his brothers in both his firehouse and MC.
.•´¸.•*´¨)✯ ¸.•*¨)¸.•´¸.•*´¨)✯ ¸.•*¨)¸.•´¸.•*´¨)✯ ¸.•*¨)
"Bottom of the Chains-Prospect"
My life has sucked for as far back as I can remember. My folks didn't want me, so I was thrown into foster care. Let me just say lots of fun. NOT. Then one day, my life took a dramatic change. My circumstances improved greatly. I met The Grimm Wolves MC, and they took me under their wing. I became not only a prospect but also part of their brotherhood.
¸.•´¸.•*´¨)✯ ¸.•*¨)¸.•´¸.•*´¨)✯ ¸.•*¨)¸.•´¸.•*´¨)✯ ¸.•*¨)
"Santa…Nope The Grimm Wolves
What happens when your past pounds on your door and you lose the little control you have over your own life? Cesar 'Beast' Ironhorse struggles with which road to take when a new threat storms into his life. As he is blackmailed, he needs to find a way out not only for himself, but also for his family, who he has sworn to protect. As luck would have it his well-intended play goes to crap, so Beast involves his brothers from his club the Grimm Wolves MC.
¸.•´¸.•*´¨)✯ ¸.•*¨)¸.•´¸.•*´¨)✯ ¸.•*¨)¸.•´¸.•*´¨)✯ ¸.•*¨)
"Keeping Secrets-Prospect"
An honorable man: soldier, lover, father, and friend. How did this happen? When did the lies begin? How can one man be expected to keep them all straight, even knowing the consequences deep down to his soul if he doesn't? Lenny 'Iron' Fensley realizes each day is truly a gift in his world. Not only is his life but also the lives of the two most important people in the world, his baby girl and the woman he loves, are in constant danger? A danger he never saw coming when he was doing his duty serving his country.